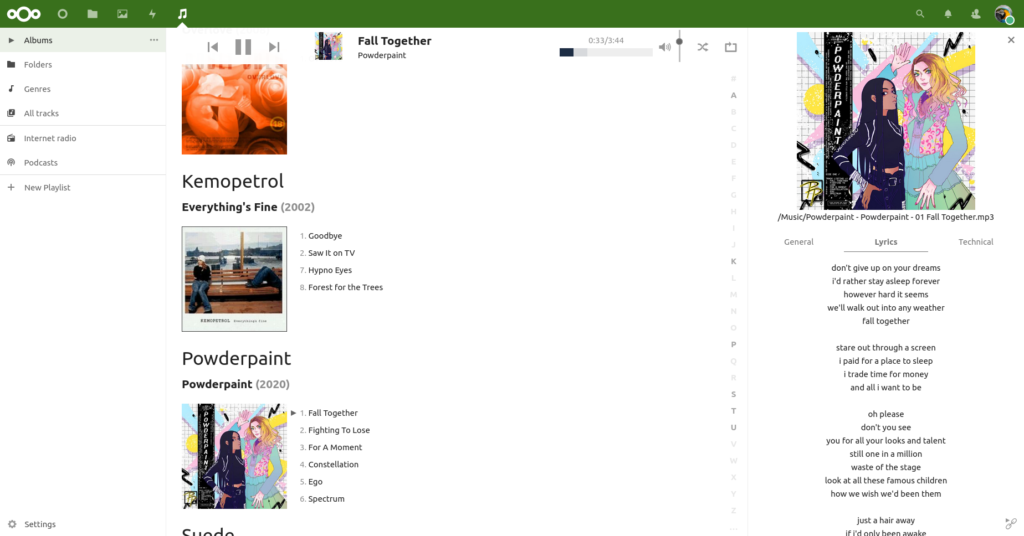 Music ⧉ is a music player, podcast and internet radio app for Nextcloud, which lets you make your own personal audio streaming service. The service is totally private, so no one else has access to the tracks you load, there are no ads and no tracking.
Once you've loaded music files onto your Nextcloud and installed Nextcloud Music, you can then listen to them anywhere through your web browser, or using Android or iPhone apps compatible with the Subsonic or Ampache standards (see the end of this review for a guide to using the apps).
You can install Nextcloud Music by going to your Nextcloud's Apps section, and then selecting "Multimedia", it will be there under the name "Music". (Note that there's also an "Audio Player" listed but that's a totally different app.)
You will need to have audio files in order to load them onto your Nextcloud, so it's suited to people who have offline music collections either ripped from CDs or purchased as DRM-free downloads. It's very easy to add music, just upload into a folder in Nextcloud Files, then go to the Music app. The Music app will automatically detect any new music you have uploaded in Files.
According to the developers, Music can handle thousands of albums and tens of thousands of tracks, which can be MP3, WAV, M4A, M4B, FLAC, or OGG files. You can import playlists in the M3U, M3U8, and PLS formats. It's also compatible with Last.fm.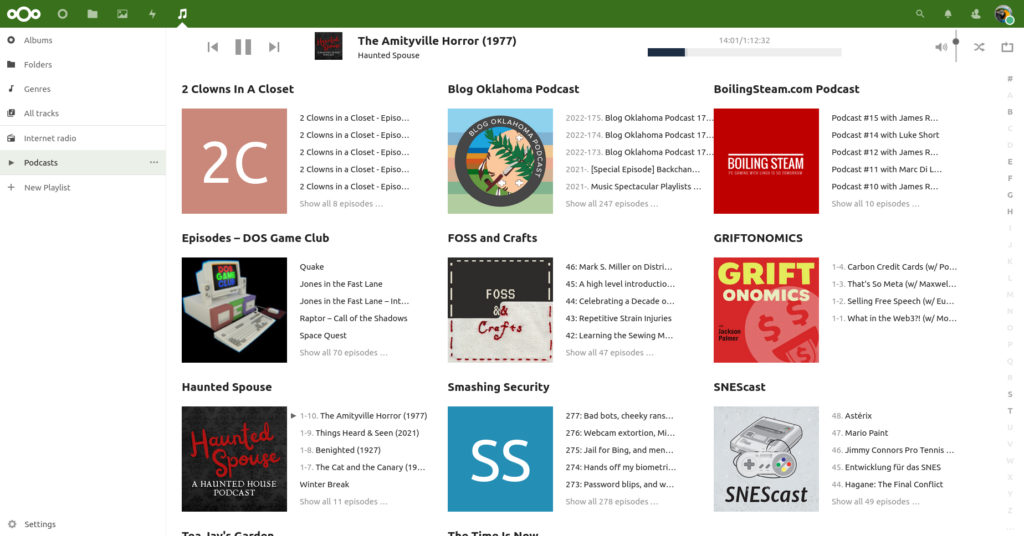 Podcasts can be subscribed to by going to Podcasts, click "…" and then "Add from RSS feed", then enter the RSS feed address of the podcast you want. If you don't know the RSS address, you will usually find it listed on the podcast's own website. Like music, podcasts can be listened to anywhere either by logging onto your Nextcloud through a web browser, or on compatible mobile apps (see guide below).
There's also support for internet radio, but you will need to know the exact URL of the radio stream, or import a PLS file. To add a radio URL, in the Internet Radio section click "…", then "+ Add manually" and enter the URL. The app's internet radio Getting Started instructions link to a third party radio station directory which includes these URLs.
Overall, this is really nice and well in the spirit of growing your own. There are some aspects that could be slightly tricky for non-technical people, such as logging in through the app (see the guide below). Also, you will need to have a collection of audio files and list of podcast addresses, as you're not going to get the ready-made collection that Spotify, Apple Music etc offer. However, once Nextcloud Music is set up, this is living the dream: no fees, no ads, no tracking, no DRM. There's no one messing around with your collection or removing tracks because of rights issues. It's true privacy and independence.
If you want to have your own private music and podcast streaming service, this is definitely worth trying. 🌱
Listening to Nextcloud Music through a mobile app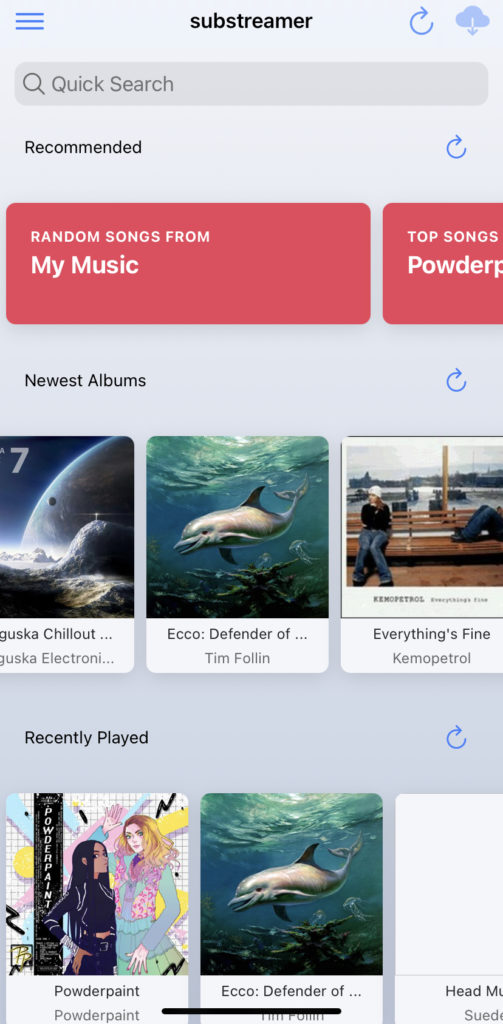 Nextcloud Music works with Android and iPhone music streaming apps compatible with the widely used Subsonic or Ampache standards. Here's how to get them working:
1. Install a Subsonic or Ampache app from your phone's app store. The Music app has an official list of apps ⧉ they have tested, and I can confirm Substreamer for iPhone works too.
2. Once you have your app installed, log into your Nextcloud through the web browser and go to Music.
3. In the Music app, click on the "settings" link in the bottom left corner. Go to the "Ampache and Subsonic" section and click on "Generate API Password". This will give you the username and password you need to log in.
4. In the same "Ampache and Subsonic" section, find your music collection's internet address as labelled "Use this address to browse your music collection". Choose either the Ampache address or Subsonic address, depending on which kind of app you have installed.
5. If you try to log in and the app tells you tokens aren't supported, try selecting the "legacy login" option if there is one.
6. Once you've got the app up and running, it might be worth telling the app to make files available offline, as this will reduce the amount of traffic generated on your Nextcloud server. It will also make your music load instantly, and work even if your phone loses its signal.
7. If your app includes a podcast section, you will be able to listen to your podcasts in the app too.